Designing a new shower? Replacing a head? Overhauling a bathroom? No matter the size of your project, it's important to educate yourself before you start. Choosing a new shower head may seem straightforward, but in reality it can be a much bigger decision than you realize (and you'll definitely realize it when you take that first shower!).
We've compiled a user-friendly guide to help you figure out which features you need in your shower so that you can choose the right one the first time. Here's what you need to know before you buy.
Types of showerheads
The obvious starting point: what type of showerhead(s) you'll want. Explore the varied options before considering other factors like style and finish, though many styles are available in multiple configurations.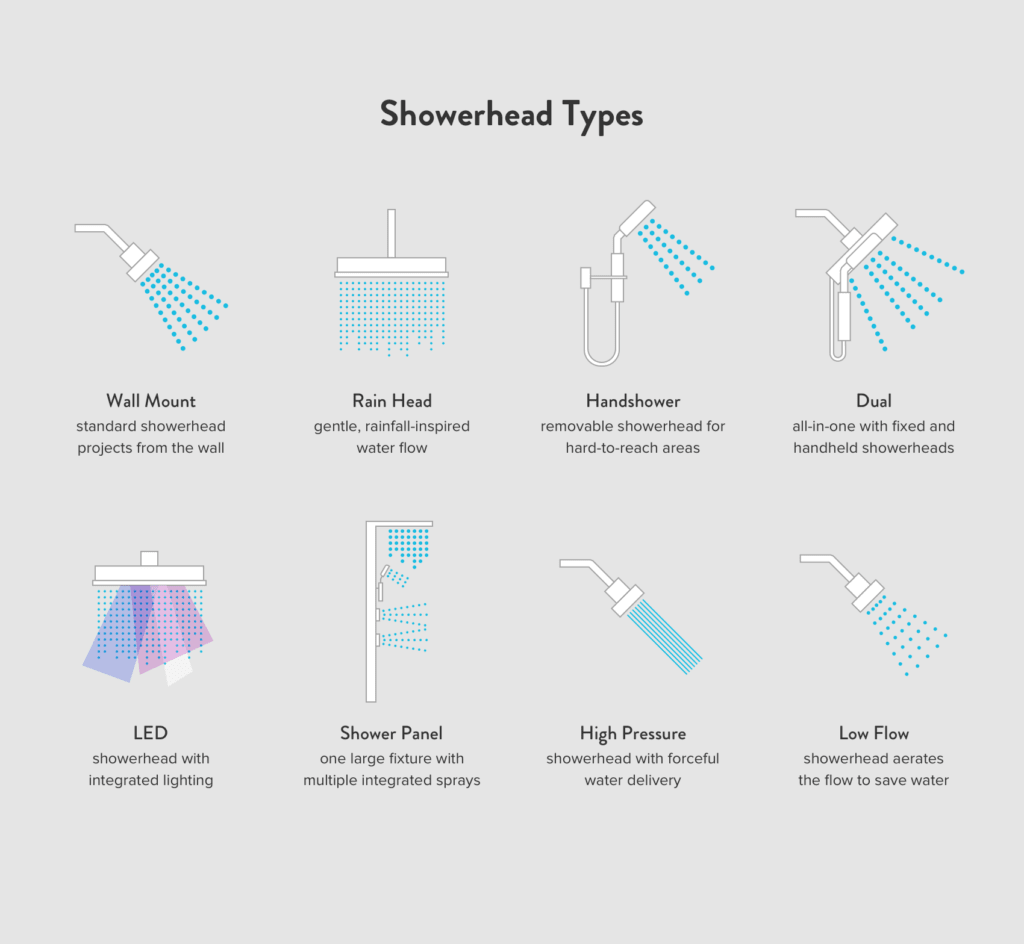 Wall mount (AKA fixed): a standard shower head that projects from the wall
Rain: a ceiling or wall-mounted head that provides a softer, rainfall-inspired flow of water; typically paired with a standard, higher-pressure showerhead for more efficient washing
Handheld: a removable showerhead designed to assist in rinsing hard-to-reach areas; often paired with an adjustable-height slide bar
Dual: an all-in-one combination of fixed and handheld showerheads
LED/light up: a showerhead with integrated lighting, sometimes with mood-lighting settings
Shower panel system/shower tower: a large, board-shaped fixture with multiple showerheads integrated; offers many benefits of a custom shower at a lower cost, but may be difficult to install
High-pressure: a category of showerheads designed for forceful water delivery
Low flow: a category of showerheads designed to save water; often feature aeration for a comfortable pressure level
Styling your shower
Next, consider the shape, style, and finish that will complement – or elevate – your bathroom's decor scheme. This is a mostly aesthetic decision, but practically speaking you should consider the space constraints and your desired spray area when choosing a shape. An unusually-shaped or decorative showerhead can serve as a statement piece and provide a unique shower experience.
You'll find that showerheads are available in many colors beyond your classic chrome – including black, gold, and bronze in every shade – so consider other design elements of your bathroom, such as tiles and other fixtures, when choosing a showerhead.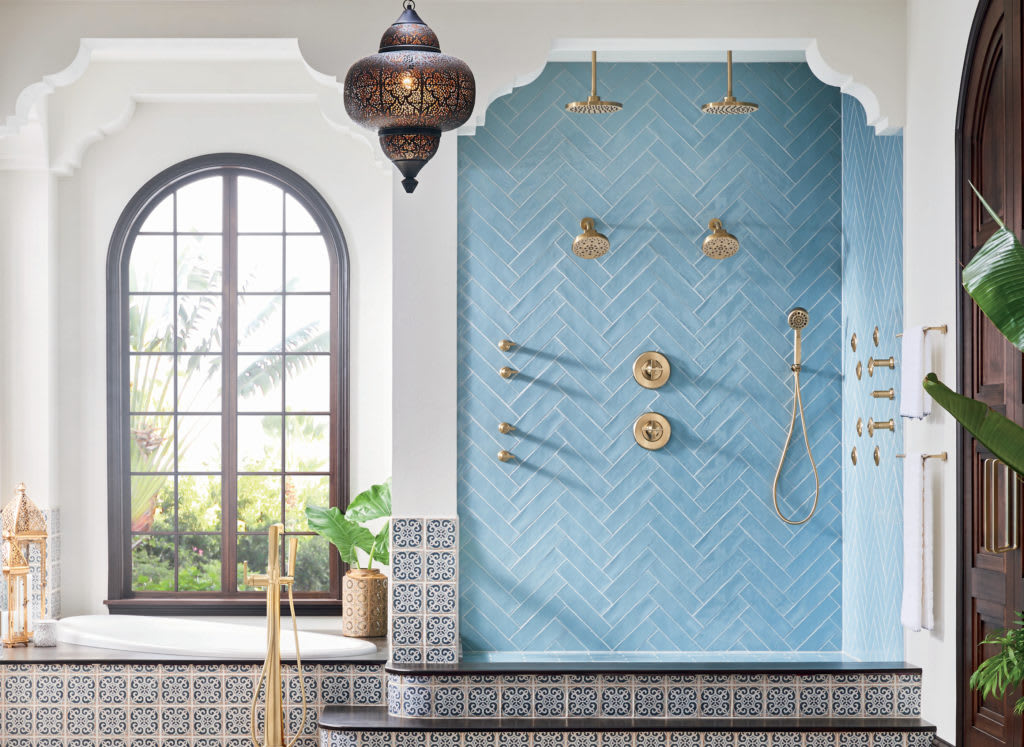 Important considerations
Spray settings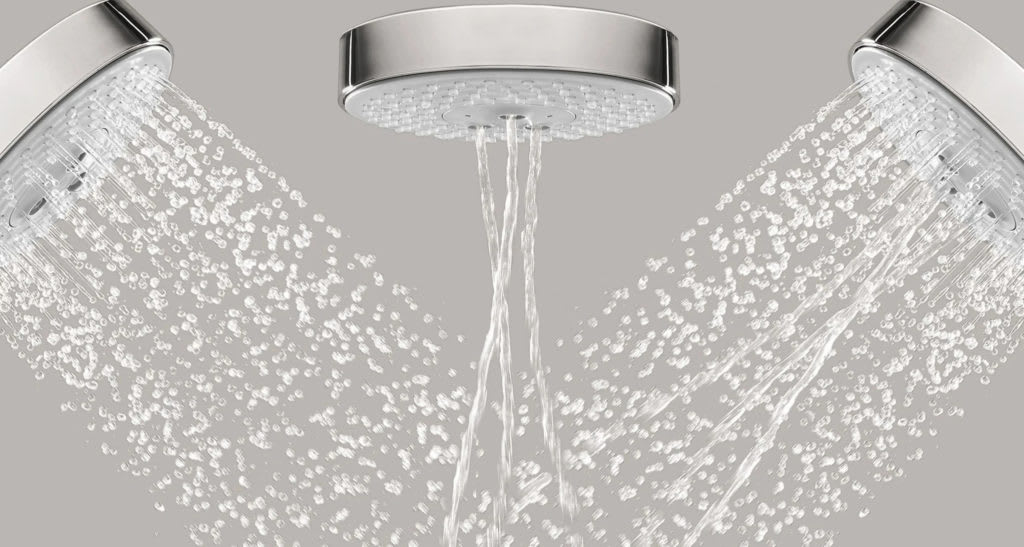 Decide what kind of spray pattern you prefer. Showerheads provide a variety of spray patterns, including massage, rain, mist, aerated spray, jet, pulsating, and waterfall, among others. The spray can be firm and invigorating or soft and gentle.
If you're the only one using the shower and you have a strong preference for a spray type, you can pick a shower head with the pattern that you like. Otherwise, choose a multifunction head; it's good for multiple users and for the days that you decide you want a different type of shower.
Water pressure
Water pressure is an important factor in choosing a showerhead, as it affects the power and sensation of your shower.
Water flow is measured in gallons per minute (gpm). You can learn more in our guide to water flow rates, but the basic rule is that the higher the gpm, the better the water pressure.
2.5 gpm (gallons per minute) is the maximum flow rate you'll find in a showerhead as that is the maximum allowed by federal regulations. Choose one of these for the most pressure. Some states and local municipalities have their own maximums.
Max gpm in California, Washington, and Hawaii is 1.8
Max gpm in NYC and Colorado is 2.0
If your home has low water pressure, it's a good idea to choose a low flow showerhead, as they are designed to provide better pressure with less water. In general, you'll get better pressure from smaller showerheads or heads with fewer/smaller nozzles. (Visualize trying to force a lot of water through many holes as opposed to a few holes; it'll come out more forcefully when it's being forced through fewer holes at the same rate.)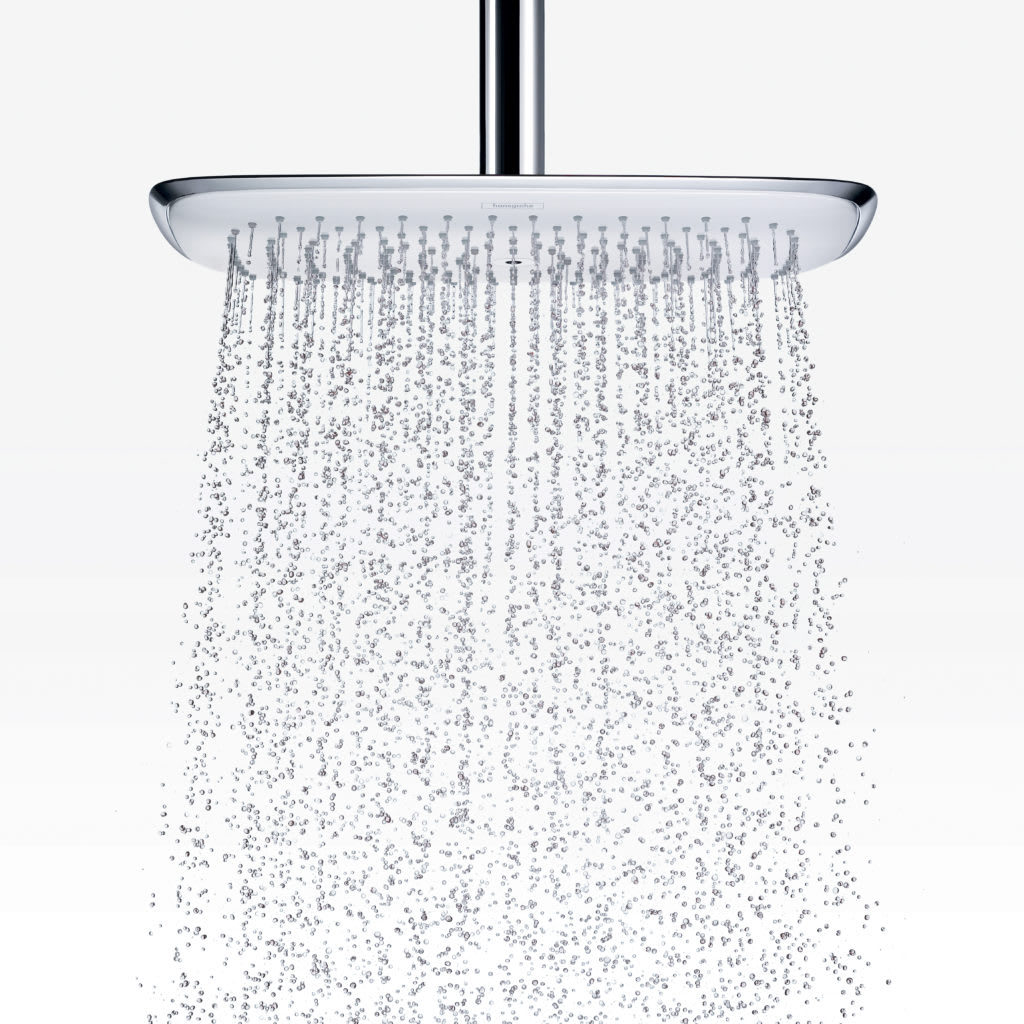 Note: If your home has good water pressure but you still have issues with the pressure in your shower, changing your shower head may help improve the pressure. However, if your whole home has low water pressure, it'll weaken the flow of even the most powerful shower head. Your plumber may have suggestions to improve the water pressure in your home.
Water usage
To keep your water use low – for environmental purposes or to save on your water bill – consider a low flow model. Showerheads bearing the EPA WaterSense label are certified to flow at a rate of 2.0 gpm or lower.
Installation considerations
Most showerheads have a universal thread size – ½" NPT in the US and Canada – so you should be able to use any showerhead on an existing shower arm or pipe. The only time a standard showerhead may not fit would be if your home is very old or if the showerhead is an unconventional type or from a different country.
You'll also need to decide how far you want and need the shower head to project from the wall or ceiling. The average showerhead is installed at about 80" high, though there are no regulations. Consider the height of shower users before choosing and installing (you shouldn't have to duck – leave about 3" of space above the tallest user's head – and should be able to reach the head easily for adjustments); measure the shower to ensure that the height and angle of the shower will work. If you want a ceiling mount on a low ceiling, pick one that is as close to flush as possible.
If your ceilings are high or a wall-mounted head seems like it'll be ineffective once installed – like a rain shower head that will "rain" at an angle when wall-mounted –an extension arm is a simple and inexpensive fix. An extension arm is a simple pipe-like addition that attaches your shower head to the wall or ceiling, adding length to the existing pipe.
Shower systems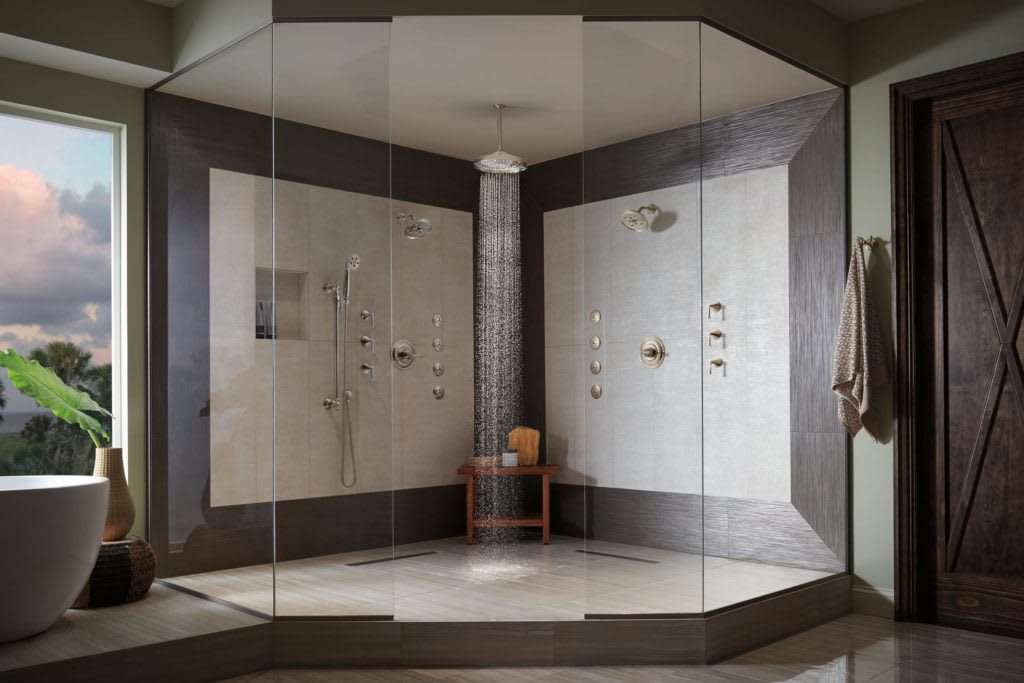 If all you need is a new showerhead, this guide should be all you need to get started. If your shower needs a full overhaul, though, check out our comprehensive guide to designing a custom shower for the full rundown on every part of the shower. And if choosing all of those parts sounds like way too big of a job for you, consider our pre-configured shower systems, which include all the matching components that makes choosing a shower a breeze.
Source: https://www.qualitybath.com/discover/post/19321/how-to-choose-a-showerhead
Rostica Inc. has been renovating homes in Toronto and
surrounding areas & we've built a reputation that is honest and trustworthy.
Let's talk about your next home renovation project.
Let's discuss your next project!
Ready to get your project started?
Drop us a line today for a free quote or give us a call at 647-806-5802
Our philosophy is and has always been the "attention to detail" we put in our work. And we back up our work with our total satisfaction guarantee.
Condo Renovation Services